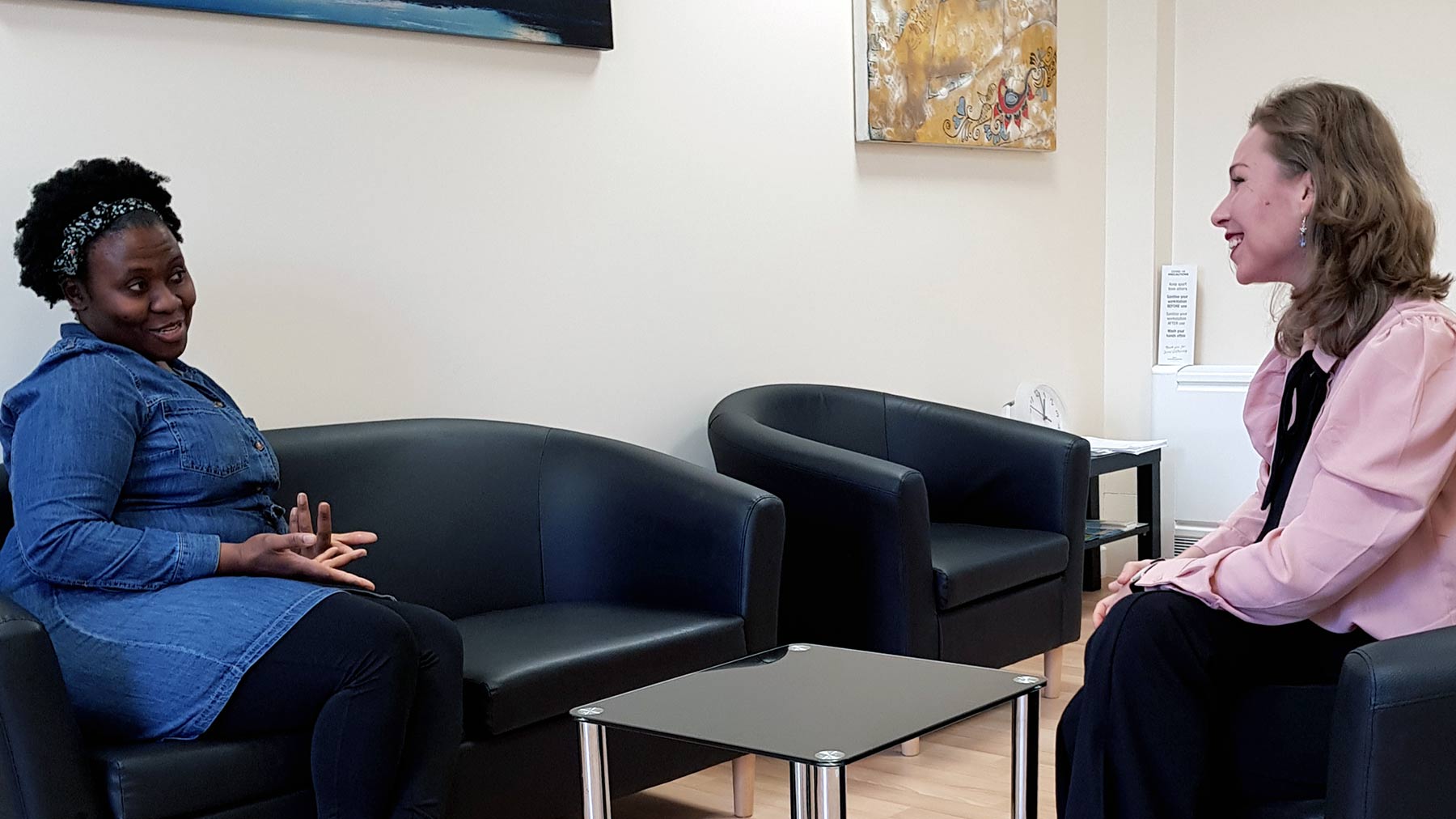 Counselling for Women in Wolverhampton
Aspiring Futures provides access to confidential and empathetic counselling and psychotherapy services for women, children and young people in Wolverhampton. Our professional female counsellors are trained to help with stress, anxiety and depression and with issues that can affect women such as domestic violence, caring and bereavement, eating disorders and the menopause.
For an initial free and confidential chat, please call us on
01902 458770
/
07557 667609, send a message
or speak to us on the Live Chat now.
Due to counselling at Aspiring Futures, I was able to rationalise, reason and prioritise what was important.
See 'My Story' for how we have supported other women
Affordable
Starting from £20 for four telephone sessions
Flexible
On the telephone, online or face to face
Immediate start
No NHS waiting list
Cultural understanding
Fluent in English, Urdu, Punjabi, Mirpuri, Romanian (translator can be provided if required)
Why see a counsellor or psychotherapist?
Counselling / psychotherapy offers you the opportunity to talk about social, emotional, or behavioural problems that are either causing you distress or interfering with your day-to-day life.
Counsellors and psychotherapists are trained professionals who can respond to your concerns in an objective and non-judgmental manner. We provide a safe forum for women, young people and children to speak freely, knowing that what is shared will be kept private and confidential.
There are many reasons for pursuing personal or psychological counselling or psychotherapy. Some of the most common problems for which women seek help include the following:
Family conflicts or relationship problems
Procrastination and other self-defeating behaviours/habits
Issues of grief, loss and bereavement
Difficulty managing stress
Coping with traumatic events such as bereavement
Domestic violence, domestic abuse or sexual assault
Depression or lack of motivation
Anxiety or acute panic attacks
Problems with alcohol or other drugs
Issues with eating behaviour and/or negative body image
Problems with anger and how to manage it
Low self-esteem and negative self-image
Sexual issues and concerns
Compulsive behaviours
Unexplained medical symptoms
Anxiety related to health, chronic illness or disability
Issues that women can face during and after the menopause
Phobias
Lack of meaning in life
Gender identity
Conflict with management and/or colleagues
Rape and sexual assault
Physical injury
Weight management
Bullying and harassment
Work stress
Parenting issues
Lack of assertiveness
Career issues
Suicidal feelings
Obsessive compulsive disorder (OCD)
Post-traumatic stress disorder (PTSD)
Disability
Cultural identity
The above list is not exhaustive as there might be other issues that cannot be labelled or might not make sense at a certain time in your life. Our experienced and trained team is happy to support you.
What are the potential benefits of counselling and psychotherapy?
With the help of counselling, you can view your thoughts from a different perspective. It is a cathartic experience, a time set aside to confront your feelings in a non-judgmental and non-threatening setting. It helps you to think, feel, and respond more effectively at home, at work and in social situations.
Some of the benefits are:
Improved emotional and psychological resilience
Improved relationships
Recovery from trauma or domestic violence
Improved work satisfaction
Greater self-acceptance and self-esteem
Ability to change self-defeating behaviours/habits
Communicate with others in an easier and more constructive way
Develop effective coping strategies
Strengthen self-esteem and self-confidence
Understand thoughts, and feelings that cause anxiety and/or distress
Taking control back of your life
Accept possibility for change
Make healthy life choices
Welcome possible solutions
Examine the impact of change and loss
Better expression and management of emotions, including anger
Relief from depression, anxiety or other mental health conditions
Increased confidence and decision-making skills
Ability to manage stress effectively
Improved problem-solving and conflict resolution abilities
What to expect from counselling?
We offer short term or open-ended therapy. The length of treatment is dependent on your needs. Your initial session provides an opportunity to assess and discuss with you the therapy planning.
Typically, appointments are scheduled once every week face to face at our premises in Wolverhampton or over the telephone. Individual sessions are between 1 hour and 45 minutes long.
What does counselling cost?
There is one off £20 registration fee for free telephone sessions. You will be offered an initial telephone assessment and 4 free telephone sessions. Sessions are typically 45 minutes long. Extended sessions after the four weeks can be offered at an affordable cost.
For face-to-face sessions there is a charge involved, please see information below.
Face to Face Session Charges
| | | |
| --- | --- | --- |
| Counselling and Psychotherapy Services |  Duration | Price |
| Counselling | 1 hour | £45 |
| Mentoring and Coaching | 1 hour | £45 |
| Psychotherapy | 1 hour | £55 |
Agency referrals
If you are an organisation or other third-party referral agency please telephone us on 01902 458770 or email reception@aspiring-futures.co.uk for further details of our external agency pricing structure.
Lynne
Counsellor
I am an integrated counsellor committed to delivering person-centred therapy that gradually empowers individuals and enables them to live a better life. I have a special interest in Cognitive Behavioural therapy/Mindfulness and Solution focused therapy.
Read more...
My approach recognises that some life experiences can make us feel unwell and stop us from fulfilling our full potential.
I believe the best way to resolve our problems is to explore our feelings and thoughts in a safe counselling relationship,with someone you can trust . By exploring your feelings together, we can make sense of them. Working together we can move forward in a positive way and implement strategies to help you in the future.
I have extensive experience of providing support with a variety of situations including:
Bereavement, addictions, depression, anxiety, low mood, family issues, couples, divorce and anger management.
Aspiring Futures aims are very much aligned to my own beliefs and goals. That is to support individuals to depend less on health services, improve their wellbeing and live their best lives.
Amanda
Counsellor
Aspiring Futures work is very close to my heart and it enables me to make a difference in women and families lives. I have been working with Aspiring Futures since 2019; I use different modalities depending on which style best suits the person i am working with.
Read more...
I have experience in working with addictions, relationship issues, bereavement , anxiety and depression and have extensive training in domestic violence, abuse and trauma, and attachement issues in children and adults.
I have done extra training in sexual and gender theories and also have training in play and drama therapy.
I spent many years working as a counsellor in a women's refuge helping famalies navigate a new start in life, as well as working with various women's agencies providing one to one counselling and facilitating work shops around well being, empowerment and anger management.
I have extensive experience working with children and young people which includes working as a youth mentor and also providing counselling in schools and running family workshops.
Katalin
Counsellor
My role as a Counsellor and Psychotherapist at Aspiring Futures C.I.C is most rewarding and has provided me with the opportunity to see real changes taking place.
Read more...
I am a firm believer in authenticity and taking agency over your life and my work is focused on supporting women to get back to themselves and rediscover their potential, being fully aware of their inner resources and abilities.
I am trained in Positive Psychotherapy and Emotionally Focused Individual Therapy and am passionate about using body awareness in integrating and managing emotions as a way to successfully self-regulate and achieve internal balance.
Confidentiality
Any information you share with a counsellor or psychotherapist is treated as confidential and does not become part of any other record held by the organisation. It also means that we would not disclose any confidential information without first obtaining your written consent to do so.
It is important for you to be aware that there are some legally mandated exceptions to confidentiality. However, we will inform you and get your consent when possible.
These include:
Notification of relevant others when a clinician judges that a client is in immediate danger to self or others (e.g. in the case of suicide or violent assault).
Notification of Child Protective Services in cases of suspected child abuse, neglect, or maltreatment.
In legal cases, clinicians or clinical records may be summoned by the court.